Outdoor concrete pots.
33 Plain Flower Pots Made Of Conventional Cement
Crafts, For Friends, For Lovers, Gifts, For Women, Workshop, Garden, Cheap, Accessories
This is something truly unique and special. Flower pots made of concrete. Their charm comes from the fragility of the plants and the brutality of the concrete in which they grow. But it makes no sense to just say when you can see these wonderful33 exampleswith your own eyes and make them yourself. If you are attracted to this material, then maybe you will be interested:,,.
What do you need to know when making things out of concrete?
As a basic mortar, you can use regular cement. Concrete is made according to the classic recipe:1 share of cement, 2 parts of sand, 4 parts of aggregate, 0.5% of water.
For large structures, be sure to use a reinforcement cage.
If you want the concrete surface to be perfect after drying, then you will need togrind the front side. To do this, use the grinding machine.We first grind with an emery wheel, and later with a felt wheel using a special paste.
Pay attention! Even a drop of lemon juice can have a negative effect on the concrete surface, leaving behind a stain. This problem can be solved with thepolymer layer, which is applied to the concrete after it dries.
Types of concrete.
There are many types of artistic concrete. In addition to cement and sand, it contains polymer additives, small fragments of natural minerals, some have dyes. The surface of a flowerpot made of decorative concrete is smoother, more interesting, interspersed with natural stones. The specific type depends on the selected composition. Some types of similar concrete are presented in the photo below.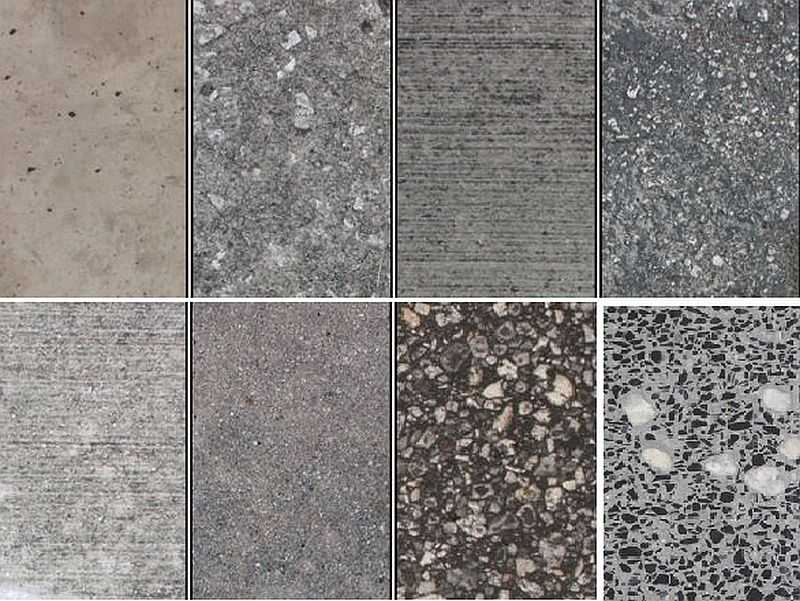 What should I do with molds for pouring a concrete pot?
For forms, you can use almost any material. It is important that it does not get wet and keep the shape for4-5 hours. Then the concrete grasps and already holds itself. You can use thick cardboard, well taping the corners of tape.But the cardboard can only be used for small flower pots.
You can also use plastic containers, glasses, buckets, trays, plastic water bottles — large and small.