20+ the coolest sandwiches for children
It is often difficult to persuade a child to sit at the table and eat normally. The exit can be an unusual and fun sandwich, which will surely appeal to any child. Of course, you will need patience and fantasy, but isn't it worth it? Surprise your child with an unusual sandwich!
Sandwich - HARE - the base is made from a slice of bread with butter and cheese, if desired we place a slice of lettuce leaf. On the basis lay out a piece of bunny from a sausage or baby sausage. We also use carrots (raw or boiled, depending on the child's preferences), dill, olives for peepholes and a piece of olive for the nose and pupil.
A MONKEY MONKEY sandwich is made from the same ingredients as the first sandwich. Instead of branches we use straws.
Unusual sandwich - LVENOK - the basis and ingredients are standard, and we make a mane from "Marble" cheese, handles, legs and tum - from any other sort of cheese.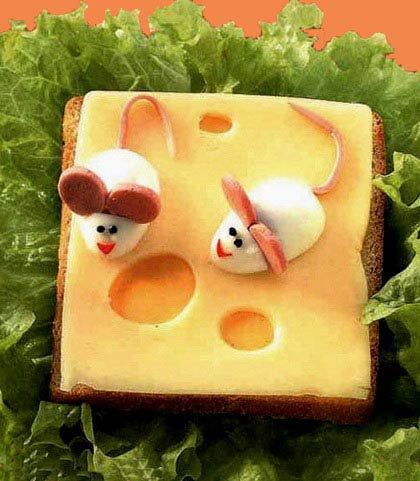 MUSH sandwich - a standard base of bread, salad and cheeseand the mice themselves are made from halves of boiled eggs, ears and a tail of sausage, eyes - peas of pepper or olives, mouth at will from Bulgarian pepper, tomato or carrots.
GODBOOK - another interesting sandwich and it is made very quickly and easily. The basis is bread with cheese and a leaf of lettuce, from above we spread half of a small tomato or cherry tomato and cut to make wings. Head, legs and specks make of olives.
Another version of GODBOOD is made from two types of sausage and black olives.
Sandwich CASTLE and KEY can be interesting to beat - having eaten the whole sandwich, you open the door and you can go to the street to play, or, after eating the whole sandwich, you will become the most intelligent and knowledgeable. The lock is made from boiled carrots or melted cheese. And the key is made of cheese and a piece of cucumber.
A paddy sandwich on the lawn will certainly delight your child. We take the bread, lettuce and cheese for the basis, and then we connect the imagination. Amanita made from halves of an egg and tomato, dots - from mayonnaise. We lay out a row of 5-6 olives and get a caterpillar, fasten eyes from a slice of olives. The beetle can be made from olives and olives, while the legs and mustaches can be made from onions or fennel stalks.
Sandwich BUTTERFLY made of bread, ham and cheese, on the wings lay out cucumber and radish circles.
Such a CHERRY will be liked by both the child and the adult. On bread with cheese and lettuce lay out two radishes, lay out the legs and leaf.
If the kid is hungry "not childish", cook him a hamburger of impressive size in the form of a funny monster. To do this, you need cream cheese or slices of regular cheese, ham and lettuce - all these ingredients need to be placed between the two halves of a hamburger bun. The composition will be supplemented with a loosely hanging tongue in the form of a thin slice of pickled cucumber, cut along, and eyes made of olives with carrot slices. Eyes should be fixed in a bun with the help of toothpicks.
When cooking sandwiches for children, the main thing that you need is just to show your imagination!
Deer Rudolph
Ice cream
Cozy houses
Horse
Cute bugs
Cook
Bunny
Submarine
Auntie owl
Octopus
Cow Manyasha
SpongeBob
Little dragon
Cars
Cancer
And some more interesting thematic ideas.
Sandwiches for kids are always fun, tasty and fun,so do not regret the time for making sandwiches for your crumbs, and their happy smile will be the best reward for you! Bon Appetit!